Samsung Ship Automation System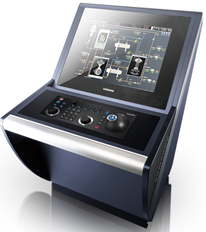 The SSAS(Samsung Ship Automation System)-Pro and SSAS-Master are ship automation systems produced by Power&Control Systems Business Division of Samsung Heavy Industries.
The outstanding performance of the SSAS products makes it a system widely applicable to all marine projects from AMS (Alarm Monitoring System), ICMS (Integrated Control & Monitoring System) and PMS (Power Management System) to IAS(Integrated Automation System).
The SSAS-Pro and SSAS-Master use the most powerful and advanced software, renowned for their performance and reliability. The six basic customer needs: reliability, functionality, open architecture, easy expansion, convenient operation and low cost are all offered to the fullest extent possible.
Furthermore, they maximize engineering performance by reducing maintenance on vessels thus vastly improving the competitiveness of our customer's business. Our systems are fitted to various vessels such as oil and gas tanker, bulk carrier, passenger, container and Ro-Ro vessels, reefers and other special purpose vessels, e.g., LNGC, drillship, offshore platform, FPSO/FSO and Cruises.